If you want to buy and sell real estate in Georgia, you'll need one of these licenses, regardless of whether you want to be a real estate agent or broker. You must be 18 years old to become an agent, and 21 years old to become a broker. In addition, you must complete specific real estate curriculum, pass an exam (or two, depending on the license), and pass a criminal background check.
To pass your exam easily on the first try, let's get started with our Georgia real estate exam practice test pack now!
Which license type is best for you? The primary distinction between a real estate agent and a real estate broker is the number of years of experience and education. To begin, an agent must work for a qualified broker, although brokers can operate for themselves and/or recruit agents. In Georgia, becoming a broker also requires additional training and at least three years of experience as an agent.
It may be challenging to obtain your Georgia real estate license, but we are here to assist you every step of the process. If you don't know how to become a real estate agent in Georgia, read this article to learn how to start your real estate career in Georgia.
What Are The Requirements For A Georgia Real Estate License?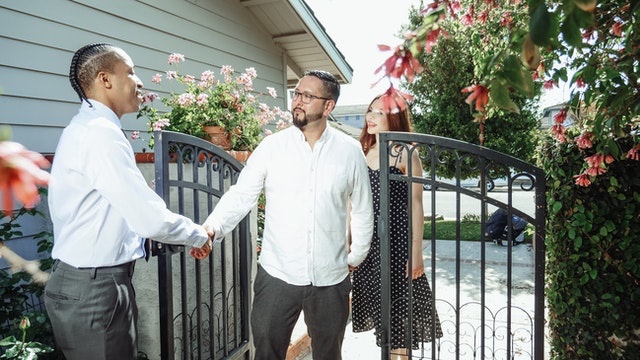 There are two sorts of licenses in Georgia, and the requirements vary depending on which one you hold. A real estate agent in Georgia, for example, is licensed to handle real estate transactions but must operate under the supervision of a licensed broker. A broker, on the other hand, can manage their own business and employ other agents.
License requirements for agents:
Candidates must be over the age of 18 to participate.
Must complete 75 hours of recognized real estate curriculum or 10 quarter hours/six semester hours of accepted real
Estate courses at an accredited college, university, or law school in the United States or Canada.
Must pass a final exam and apply for a license within 12 months of the exam date.
Must be entirely truthful in all information provided and pass a background check
The sponsor must be a broker.
License requirements for brokers:
You must be at least 20 years old to take the Real Estate test, and you must be 21 years old before your license may be activated.
At least three years of experience as an agent or in the larger real estate industry are necessary.
Must complete 60 hours of recognized pre-broker real estate curriculum or 15 quarter hours/nine semester hours of
Accept real estate education at a U.S. or Canadian-accredited college, university, or law school.
Must pass a final exam and apply for a license within 12 months of the exam date.
Must be entirely truthful in all information provided and pass a background check.
A word regarding background checks: You must disclose any criminal convictions on your application. Depending on the offense, a conviction may or may not disqualify you. Failure to disclose even minor violations will result in your application being refused immediately. If you have a criminal record, you can get a background check before applying for a license.
How Do I Get My Georgia Real Estate Salespersons License? – 6 Steps
Step 1: Complete 75 hours of pre-licensing instruction that has been approved
Complete a 75-hour pre-licensing salesperson course that has been approved. Please see the Georgia Real Estate Commission's website for education exemptions for graduates of an accredited law school, those who have received a degree from a university with a major course of study in real estate, and those who have a current license in another jurisdiction seeking licensure in Georgia.
Step 2: Pass the final test for the course
There is a course final test when you have completed all of the course materials. A minimum passing score of 72 percent is required.
Every final must be taken in front of a proctor. You must make an appointment with a proctor ahead of time.
Step 3: Obtain a criminal background check
You must present a certified criminal history record produced by the Georgia Crime Information Center of the Georgia Bureau of Investigation or a certified criminal history report from your residence state no more than 60 days previous to completing the application.
Step 4: Choose a broker to work as a sponsor
You must first be linked with a current and active Georgia sponsoring broker in order to be licensed. It is critical to choose the proper broker to work with since this individual will be your mentor as you begin your new real estate career. As you begin your search, consider the following questions:
What is their reputation on a local and national level?
What kind of real estate agents are they looking for?
Are they technologically advanced and equipped with the most up-to-date systems?
What methods do they use to educate and train their agents?
Is there a commission system in place?
Do they have any advantages?
Do they provide their agents with leads and marketing materials?
Is there space for growth in the brokerage?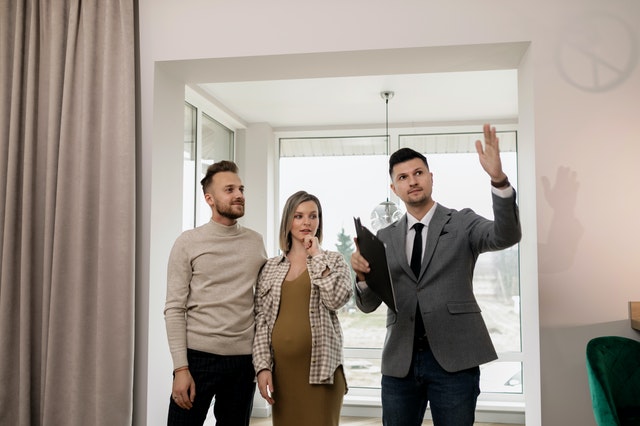 Step 5: Pass the Georgia Real Estate Sales Associate Examination
The Georgia Real Estate Salesperson license test is administered by PSI (formerly AMP). This 152-question exam is divided into two sections, each of which covers both state and national standards. You can prepare for your coming exam with our free Real Estate practice exam pack.
Step 6: Get your driver's license
After completing the Georgia Real Estate Salesperson test, you can apply for your license at any of Georgia's four PSI Test Centers. You can apply for your license at the testing center after 2:00 p.m. on the day you took the exam, or at any time within 12 months after finishing the exam.
How Many Questions Are On The Georgia Real Estate Exam?
You must finish the appropriate number of pre-licensing education hours and provide proof of years of experience if you are pursuing a broker's license before taking your Georgia real estate license test. Applied Measurement Professionals (AMP) are hired by the Georgia Real Estate Commission (GREC) to administer the state's real estate license examinations. You can apply to take your exam online via the AMP site unless you are requesting college course credit or out-of-state reciprocity, or unless you are a Florida candidate. In some situations, the candidate handbook application must be mailed.
The agent exam has 152 multiple-choice questions, 52 of which are specific to Georgia. After completing the four-hour exam, you will receive your results instantly. You must also produce your broker sponsorship application if you want your license activated straight immediately.
The framework of the broker test differs from that of the agent exam. You'll get three hours to complete 11 simulation assignments instead of multiple-choice questions. If you live in Florida and want to become a broker in Georgia, you must first pass the Georgia Supplement Exam, which consists of 48 multiple-choice questions. If you fail your test the first time, you can request a retake.
Read more>> How to Study for Real Estate Exam?
Which States Have Real Estate License Reciprocity With Georgia?
Georgia has reciprocity agreements with all states. To buy or sell real estate in Georgia, you must have a current, valid license from your home state.
If you meet the prerequisites, you can file a real estate reciprocal application. Florida agents and brokers must pass a Georgia-specific exam before they may practice in Georgia. Brokers who wish to start their own practice must take out a business formation application.
How Often And When Must A Real Estate License Be Renewed In Georgia?

Georgia real estate licenses are valid for four years and can be renewed online or by mail up to 120 days before the license expires. Renewal costs for both agents and brokers will be $125, with a $25 reduction for online renewals.
If you fail to renew your license within 30 days, you must reinstate it and pay a late charge. If you do not renew your license within 30 days but within a year, it will be suspended and you will have to file for a real estate change. If your license has been expired for more than a year, you must submit an application for reinstatement together with the change application. Any delays may result in late fees.
Special Considerations 
In Georgia, there are multiple legislation and rules governing different real estate concerns. Two specific property and real estate laws that every agent and broker should be aware of our homestead laws, which allow property owners to protect a portion of their home from creditors in certain circumstances, and adverse possession laws, which allow someone who has fixed up a neglected property to take ownership. The Georgia Real Estate Commission and Appraisers Board also publish monthly newsletters with the most recent modifications and improvements.
FAQs – How To Become A Real Estate Agent In Georgia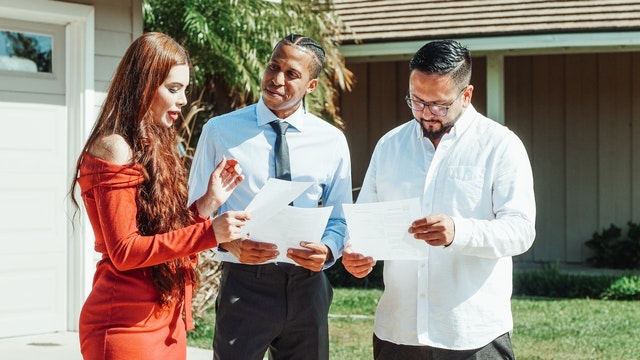 What does a Georgia real estate license cost?
In Georgia, aspiring agents may expect to spend between $540 and $690 for their basic license, while brokers can expect to pay between $785 and $959 owing to the additional courses necessary. The costs are broken down as follows:
The cost of pre-licensing exam education for agents ranges from $200 to $350 on average

The additional coursework hours will cost brokers an additional $245 to $269

Both the agent and broker licenses cost $170

Both licenses have exam costs of $121

A criminal history check is also required for both licenses, which will cost about $50.
Other costs may apply for association memberships, office space, further training, and requesting exceptions from certain requirements. To keep their licenses current, agents and brokers should budget $145 for continuing education and $100 to $125 in renewal costs every four years.
How long does it take to get a real estate license in Georgia?
Being a real estate agent might take anywhere from four to six months from start to finish, depending on where you live. In Georgia, however, obtaining a driver's license might take as little as three to nine weeks. 4 If you haven't already, you may need to wait a few months to find a sponsored broker. The average yearly salary for a Georgia real estate agent is $71,241.5.
The path to becoming a broker may take a little longer due to the additional requirements of completing an additional 60 hours of pre-broker real estate training and having previously worked three years as an agent or three years in the wider real estate sector. A real estate broker in Georgia gets an annual salary of $97,762.
Is it possible to apply for a real estate license in Georgia online?
In Georgia, if you pass your exam, which you may register for online after completing the requisite number of hours of pre-licensing study, you can get your license straight immediately.
If you pass the exam, you will be able to obtain your license immediately if you have all of the required documents, which include a supporting broker statement, a notarized declaration of lawful presence, and a Georgia criminal information report. You have up to 12 months to activate your license before having to repeat any exams.
Is post-licensing education required in Georgia?
Georgia real estate agents and brokers must complete 36 hours of authorized continuing education curriculum for each four-year license renewal. All lessons must be taken in an accredited real estate school in Georgia.
Read more>> How To Become A Real Estate Agent In New Jersey?
Conclusion
Acquiring a Georgia real estate license may be tough, but becoming a licensed real estate agent is a great way to earn money by assisting people in the purchase, sale, and rental of real estate. Now that you know "how to become a real estate agent in Georgia", it will be much easier for you when you get your Georgia real estate license.